In Memory
Alan Schroeder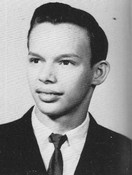 Alan Schroeder passed away after a heroic fight against Parkinson's Disease in Lake Jackson, TX, on Saturday, March 29, 2014. He was born August 9, 1947 in Bay City, TX, lived in the Brazosport area and worked for Dow Chemical before he retired.
He was an incredibly generous man throughout his 66 years. He filled the hearts of those around him with his grace, kindness, and humor, especially if he could tell one of his own jokes without laughing. The friendship and compassion he showed to those he loved was unparalleled.
A memorial service will be held this Wednesday, April 2 , 2014, at 11 :00 a . m . at Restwood Funeral Home.
In lieu of flowers, the family asks friends and relatives to consider a donation in Alan's name to The Michael J. Fox Foundation in support of his daughter's effort to find a cure for Parkinson's Disease.
He is preceded in death by his mother and father, Gwendolyn and Ardell Schroeder, and his brother, David Schroeder.
He is survived by his daughter, Gwen Laura Schroeder of New York City; brother Roy Schroeder of Freeport; former wife Yolanda Schroeder of Lake Jackson; brothers-in law Jose Porto of Brazil, Tony Porto of San Antonio, and Lauro Porto of Houston; sisters-in - law , Janeth Porto of Brazil and Jaime Schroeder of Freeport; nephew Seth Schroeder of Houston; dear friends Lisa Wolber of Lake Jackson, Nita Slater of Lake Jackson, and Jerry Shaffer of Lake Jackson; and by a crowd of friends, relatives, and colleagues.
Pallbearers will be Roy Schroeder, Seth Schroeder, Lauro Porto, Tony Porto, Mark McLelland, Jerry Shaffer, David Lorms, Phil Wolber, and Clyde Moss.