In Memory
Judy Jernigan (Griffin)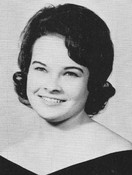 Judy Jernigan Griffin, 63, of Lake Jackson passed away at her family's home Saturday, May 15, 2010, after a brief battle with cancer.
Originally from Freeport, she was preceded in death by her parents, Edna and Worth Jernigan; brothers, Kelly and Robert Jernigan.
She is survived by her brother, W.C. Jernigan; her sons, Chris Griffin and wife, Charlotte, William Griffin and wife Carole; her seven grandchildren; and many nieces and nephews.
She will be dearly missed. She was a wonderful mother, and grandmother. Thank you to Hospice Care Team for their help in her families time of need.
Memorial Services will be Saturday, May 22, 2010, 11:00 a.m. at First Baptist Church in Clute.