In Memory
Gay Nelle Whitehead (Backus)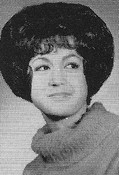 Tammie (Gay Nelle) Whitehead Backus passed away November 17, 2009, at the age of 62 in Houston. She was born in Cleburne, attended Brazosport High School and received her nursing degree from Howard Community College in Columbia, Maryland.
Tammie's early career was spent primarily in the moving industry, but she found her true calling by returning to college and becoming a registered nurse in 1992 at the age of 45. From there, she was blessed in joining the outstanding medical staff at Texas Children's Hospital, working both in the PICU and later in the PACU. This caring and healing work clearly became an integral cornerstone in her rich and fulfilling life.
She was preceded in death by her father, Harvey Whitehead of Angleton.
Survivors include her husband, Kenneth Backus of Houston; her beloved little dogs, Pookie and Tiger; mother, Martha Whitehead Johnson and husband, Al, of Anacoca, Louisiana; sister, Saundra Jain and husband, Rakesh, of Lake Jackson; brother, Willie Whitehead and wife, Vicki, of Lake Jackson; sister, Pam McKey and husband, Severo Garcia, of Clute; daughter, Kimberly Genoway of Houston; granddaughter, Kristen Genoway of Houston; granddaughters, Allison Genoway and Elizabeth Genoway of Angleton, and Joan Smith, Billie Joe Hudgins, Tom and Beth Cannon, all of Cleburne.
Special thanks to her newest best friend/caregiver, Carolyn Palmer of Visiting Angels, who brought so much fun, comfort and brightness to both Kenny and Tammie during this final chapter of her wonderful life.
A Life Celebration Ceremony will be held on Sunday, December 6, 2009, from 11:00 a.m. until 1:00 p.m. at the Lake Jackson Civic Center, 333 Highway 332 E., Lake Jackson, TX. 979-415-2600.
For those desiring and in lieu of flowers, the family requests that memorial contributions in Tammie's name be directed to Texas Children's Hospital, Attn: Melanie Howells or Kimberly Harris, at 832-824-6806.